Andrea Branzi
Open Enclosures
Linda Chenit, February 18, 2008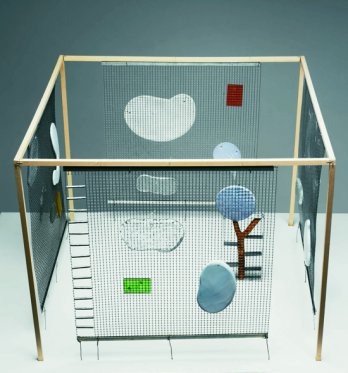 Andrea Branzi_Gazebo maquette, 2007_Fondation Cartier
For the second installation, the designer will present an enigmatic structure that he aptly refers to as a gazebo. Like a traditional gazebo, the installation of Andrea Branzi is a pavilion with intricate decorative features. Metal braiding and organic glass forms ornament its sides made of thin steel bars, adding sensuality and delicate colors to an otherwise minimal geometric structure. Inside of this work, the designer has placed a "vertical home", a modular piece of furniture that may assume a variety of domestic functions - a bed, shelves, or a working area - thus transforming this installation into an imaginary living space. A gazebo is usually a shelter from which we may contemplate the landscape. For Andrea Branzi, however, nature is no longer passively decorative, it possesses its own "weak" energy similar to the electronic energy that has invisibly changed our cities.
Andrea Branzi
Omnipresent in Branzi's work, nature and its modes of production are seen as conceptual models for architecture and design as well as forces with which they may interact. Expressing this potential, Branzi integrates plants and flowers within and around his installations. A glass shelf that completely surrounds the ellipse will display a selection of vases from the designer's collections. Within the imaginary domestic space of the gazebo, flowers will also bloom, their presentation inspired by the art of Ikebana.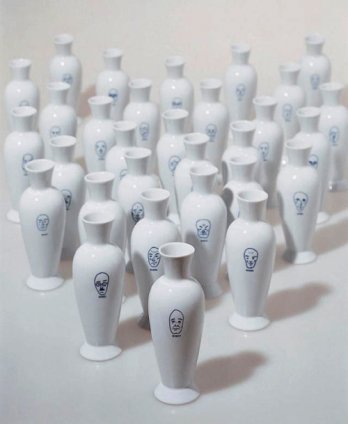 Andrea Branzi_Genetic Tales Three
Jean Nouvel's building provides the most conceptually appropriate environment for these installations. Just as Andrea Branzi's permeable structures strive to blur the boundaries between interior and exterior, Nouvel's sheet glass façades deny the reading of a solid volume, creating a dialogue with the surrounding wildflower garden. For Andrea Branzi, it is this blurring of boundaries that best expresses our contemporary reality. Eliminating the traditional distinctions between inside and outside, form and function, the natural and the technological, these two installations suggest a new conceptual approach to architecture and design. They are metaphors for an architecture of the future, no longer based on the idea of spectacular verticality, but on light, flexible, ephemeral structures that fully incorporate the "weak and diffuse" energy of nature and its seasons.
From March 28 to June 22, 2008
http://fondation.cartier.com