Andrea Branzi
Open Enclosures
Linda Chenit, February 18, 2008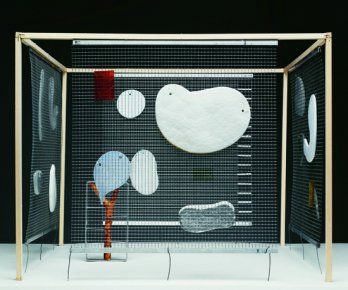 Andrea Branzi_Gazebo maquette, 2007_Fondation Cartier
The installations presented at the Fondation Cartier have evolved out one of the designer's major preoccupations: how may we reinvent architecture following its demise? He argues that modern architecture, with its emphasis on closed form and definitive function, has not only lost touch with "the intimate needs and behaviour of users" but also with the general needs of a "fluid" society based on electronics and services. Embracing the opposing realities of the natural and the artificial, the industrial and the handmade, the work of Andrea Branzi strives to reflect the complexities of contemporary society, encouraging viewers to rethink their relationship to the built environment.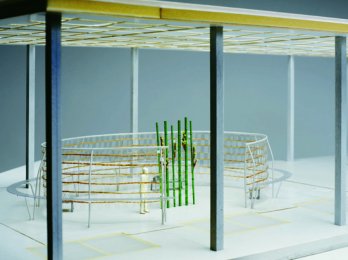 Andrea Branzi_Ellisse grande maquette_Fondation Cartier
For the first installation, the designer has created a mysterious elliptical enclosure, using construction
techniques related to the handicrafts. Weaving together materials such as plants, tree branches and hemp with glass and metal, he creates a hybrid structure that marries the natural with the manmade. Three seats from the Domestic Animals (1985) series, realized using industrial carpentry and rough birch wood, will be placed inside of the ellipse, echoing the dual nature of the structure itself. Branzi employs weaving - a technique traditionally used in the creation of fabrics - to build a wall that is light and permeable in appearance.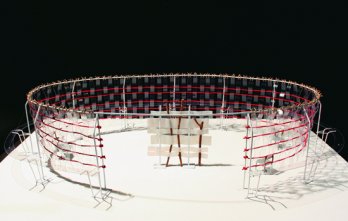 Andrea Branzi_Ellisse, 2007_Fondation Cartier
Rarely used in construction, this method is employed here to create a flexible surface that may be dismantled. Far from the notion of architecture as a system of closed boxes, this work expresses the ideas of translucency and penetrability. Unlike a traditional edifice, the ellipse possesses no clear function and raises more questions than it answers: is it a collective dwelling? A walled garden? A trellis? As both a sculptural object and a construction, it is situated somewhere between architecture and design. Expressing the designer's concept of an "open" system, the ellipse offers as many possibilities as the mind can imagine.