¡CUBA!
A voyage through this Island's Art and History, from 1868 to today
Catherine Guex, February 4, 2008
Carreno Mario_Sugar-cane cutters, 1943_Den Queralto
E.D.: And after the Revolution?

N.B.:
By 1959, Cuban artists had already mastered all the styles and approaches of modern art. It was a school of immense vitality committed to a collectivist, all-embracing art that made free use of all the styles - lyricism, Expressionism, Pop Art - unlike the Soviet Union, where only Socialist Realism was permitted. We are fortunate to be able to exhibit the giant mural of 1967, created by almost a hundred artists of varying styles, which is a remarkable testimony to this freedom of expression.
Since the 1980s, the new generations of artists have approached the Cuban identity and their historical heritage from a more individual viewpoint while introducing decidedly contemporary formal practices. After the collapse of the Soviet system in 1991 and up to today, Cuba's artists have continued along this path, establishing a kind of archaeology of the present.
José A. Enquita, The Malecon in the Summer, Havana, 1956_Vicki Gold Levi Collection NY
E.D.: And the Cuban fiesta?

N.B.:
A charmingly funny section shows the stereotypical images of "
Cuba, Island of Fiesta and Siesta,
" through the loans of Vicki Gold. Naturally, their music and songs are an essential element of Cuban identity and permeate the exhibition: they belong to the whole world now!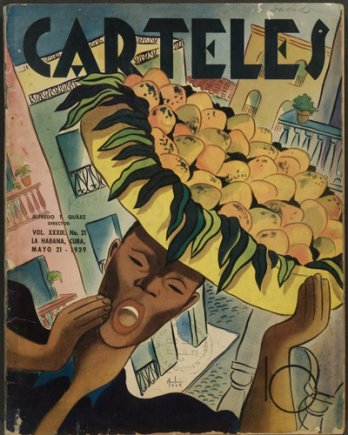 Andres Garcia Benitez_Cover of the magazine Carteles, Havana, May 21, 1939_MMFA, Brian Merret
The Curators
The exhibition is organized by the Montreal Museum of Fine Arts (MMFA) in collaboration with the Museo Nacional de Bellas Artes (MNBA) and the Fototeca de Cuba, Havana. Nathalie Bondil, director of the MMFA, is the general curator of the exhibition, in collaboration with Moraima Clavijo Colom, director of the MNBA, and Lourdes Socarrás, director of the Fototeca de Cuba. The curatorial committee also includes Hortensia Montero Méndez, curator of Cuban art, MNBA; Luz Merino Acosta, technical director, MNBA; Rufino del Valle Valdés , curator, Fototeca de Cuba; Iliana Cepero Amador, independant curator; Stéphane Aquin, curator of contemporary art, MMFA; and the team of curators of the MNBA.

The Catalogue
Under the general editorship of Nathalie Bondil, a 424-page catalogue has been produced by the Montreal Museum of Fine Arts' Publishing Department. This book, which includes some 450 illustrations, is the first publication covering the whole history of Cuban art. It provides essays by Cuban and international specialists on various aspects of the subject and some 140 biographical notes. It is published in separate French, English and Spanish editions.
The exhibition design is by Daniel Castonguay, in association with David Gour.
Through June 8, 2008
mmfa.qc.ca