¡CUBA!
A voyage through this Island's Art and History, from 1868 to today
Catherine Guex, February 4, 2008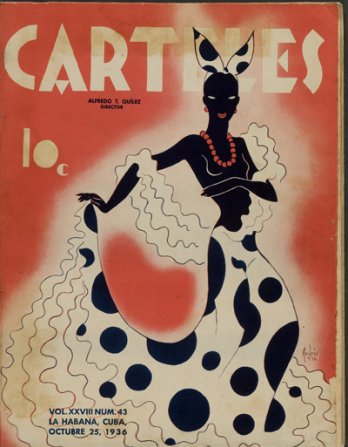 Andres Garcia Benitez_Cover of the magazine Carteles, Havana, October 25, 1936_MMFA, Brian Merret
E.D.: From 1868 to today, what is the history unfolded by these artists?

N.B.:
It's the history of a young country with an ancient culture. Ever since the first wars of independence, Cuba's artists have helped to define the Island's specific new identity as a nation. They have pondered Cubanness. Somewhere between a re-evaluation of the colonial past and an openness to the avant-gardes, they have succeeded in creating a profoundly original art of synthesis that takes its inspiration from Cuba's baroque and academic past, its Hispanic and African roots and its diverse forms of Catholic and syncretist spirituality… As both a motor of collective political action and an expression of individual identities confronting history, Cuban art has tackled basic questions about the place and role of the artist in society, questions that the contemporary school continues to address.
E.D.: Could you describe the exhibition in a few words?

N.B.:
There once was an island, "the most beautiful that human eyes had ever looked upon," in the words of Christopher Columbus. Insularism, the fact of being an island, is a central theme of the exhibition: the sea is at once a boundary and a boundless horizon. Insularism brings a physical awareness of the limits of one's territory and at the same time an awareness of the immensity of the world.
Anonymous, Coconut trees on Avenida Del Puerto, Havana_ND
E.D.: What are the main sections of the exhibition?

N.B.:
We begin with the very picturesque colonial style, which, in addition to illustrating the prosperity created by coffee, sugar and tobacco, reveals a society of strong contrasts between the privileged class, which looked back to European models and fashions, and the heterogeneous majority composed of people of mixed blood and the Black slaves. As in other countries, Canada for instance, it was the paintings of the landscape that gave birth to the sense of belonging to the land.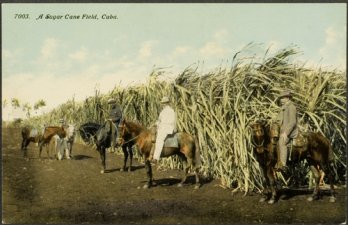 Anonymous, A Sugar cane field, 1914_MBAM, Brian Merret
The first Cuban avant-garde movement grew up between the two World Wars. Its militant modernism corresponded to that worldwide rise of fierce ideologies. Pogolotti is one of these unrecognized artists whose work astonished me with its power; it has rarely been seen outside Cuba, and will be one of the many discoveries of the show. Thereafter, Cuban art truly blossomed, not only by assimilating its native roots but by liberating itself. Wifredo Lam, undoubtedly one of the twentieth century's major artists, achieved a brilliant synthesis, an Afro-Cubanism tinged with Surrealism that paved the way for abstraction. A whole gallery of the show is devoted to his work.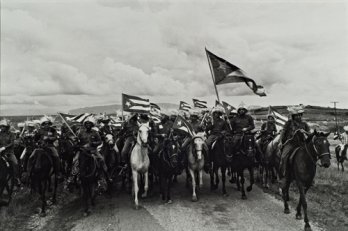 Raul Corralas, Cavalry, 1960_MMFA, Christine Guest