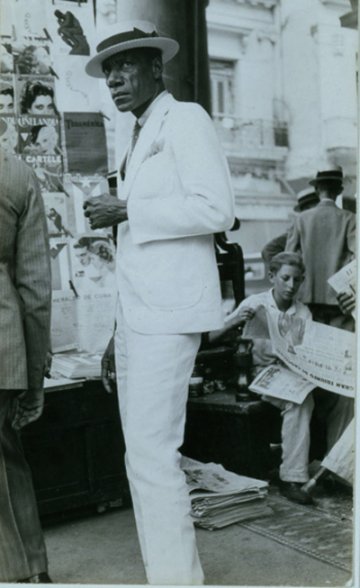 ¡CUBA!
A voyage through this Island's Art and History, from 1868 to today
Catherine Guex, February 4, 2008
Cundo Bermudez, Barberia (The barber shop), 1942_The Museum of Modern Art/SCALA/Art Resource NY
Organized and presented by the Montreal Museum of Fine Arts,
¡Cuba! Art and History from 1868 to Today
, which brings together some 400 works of art, is the most important exhibition ever presented to showcase the art of this Caribbean island, which Christopher Columbus described as "the most beautiful land eyes have ever seen." Thanks to the collaboration of the Museo Nacional de Bellas Artes and the Fototeca de Cuba, and of many collectors and museums in the United States, including the MoMA, this exhibition draws a broad panorama of Cuban art and history. This lively and well-conceived multidisciplinary exhibition brings together about one hundred paintings, including a huge collective mural produced in 1967 by many artists, two hundred photographs and documents, approximately one hundred works on paper (in particular two collections of pre- and post-1959-Revolution posters), installations and videos, in addition to music and film excerpts.
Cundo Bermudez, The Balcony, 1941_The Museum of Modern Art/SCALA/Art Resource NY
This ambitious exhibition features the art of Cuba, an island that has witnessed the twentieth-century's principal historical events (decolonization, the search for a national identity, wars of independence and the Revolution, the building of political utopias and ideological clashes). Located at the crossroads of Old Europe and the New World, Cuba is a rich cultural terrain: its music and literature are well known outside of the country, but the same cannot be said of its visual arts.
Collective,Havana_Salon de Mai Mural, 1967_Rodolfo Martinez
The exhibition is divided into five sections: Depicting Cuba: Finding Ways to Express a Nation (1868-1927); Arte Nuevo: The Avant-garde and the Re-creation of Identity (1927-1938); Cubanness: Affirming a Cuban Style (1938-1959); Within the Revolution, Everything, Against the Revolution, Nothing (1959-1979); The Revolution and Me: The Individual Within History (1980-2007).