The 21th Century will be feminine!
9 designers who are transforming the contemporary design world
M.V., January 28, 2008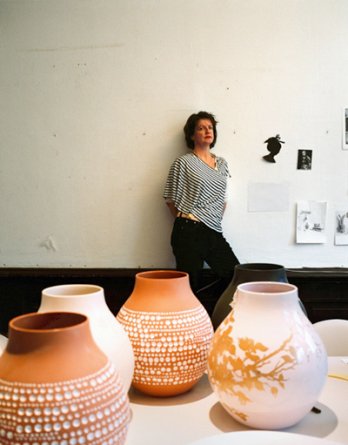 Hella Jongerius_Gautier Deblonde
Hella Jongerius
The Dutch designer Hella Jongerius (born in De Meern in 1963) works on the cusp of design, craft, art and technology to fuse traditional and contemporary influences, high tech and low tech, the industrial and artisanal. Standing in the Design Museum Tank on the riverfront was a wooden table laden with food and illuminated by five lamps with ceramic bases and silk shades. On closer inspection it was apparent that the 'food' - a loaf of bread, fish, fowl, sausages and artichokes - was made from hand-blown glass and the lamps were embroidered with images of the animals, inspects and birds printed on the silk. Stranger still, the floor was covered in rich brown soil. It was The Silk Menagerie, an installation created for the Design Museum by the Dutch designer-maker Hella Jongerius.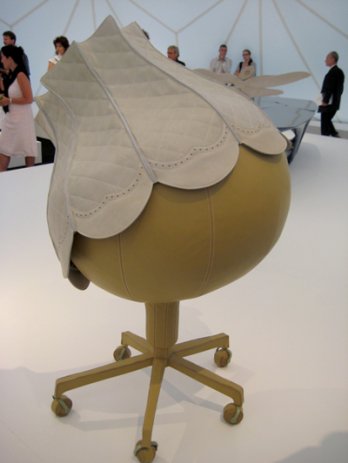 Hella Jongerius_Office pets
Inspired by a visit to Hermes' silk archive in Paris, it combines many of the themes that have dominated Jongerius' work over the past decade by juxtaposing the old and new, craft and industry, high tech and low tech. Hella Longerius studied industrial design at the Eindhoven Design Academy and has since combined elements of that discipline with those of traditional craftsmanship in products, textiles and ceramics. Many of her early designs were manufactured by Droog, the influential Dutch design collective, and she now puts her own work into production through Jongeriuslab, her Rotterdam studio, as well as developing products for manufacturers such as Maharam, Royal Tichelaar Makkum and Vitra.