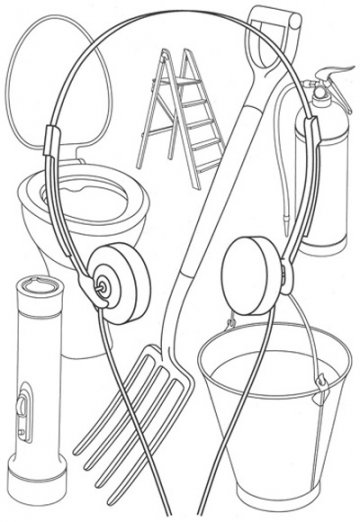 Michael Craig-Martin
Father of Brit-Art
Lola James, January 28, 2008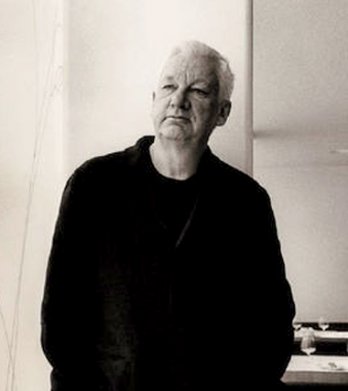 Michael Craig-Martin
"My work is simple and sophisticated at the same time….My picture of our society is that the things that unite us, at a very simple level, are the ordinary things we make to survive."
Throughout his career, Craig-Martin - his work for the first time is presented at Gagosian Gallery in London - has explored the expressive and linguistic character of commonplace objects, evincing a dialogue between representation and reality in art. In the new paintings, outlines of everyday objects - an umbrella, a light bulb, a drinking glass - are drawn against a background of flat, vibrant colour. Over this he paints a single letter or combination of letters spelling commonplace words and phrases - 'SEX', 'GOD' or 'we', and so on. Such apparently random groupings draw attention to the relation between line and colour, word and image. Craig-Martin turns the everyday objects that recur throughout his work into pictogram-like images while creating narrative tension by juxtaposing and layering images and text.
Michael Craig-Martin_Blue
A for Umbrella comprises paintings that combine text and image, together with a series of computer monitor works, including two self-portraits and a large triptych. The computer monitor works engage the viewer to participate in the very construction of meaning. Although the image is fixed (a self-portrait or a collection of personal objects) the colours slowly and constantly change in infinite, never-to-be-repeated combinations. The effects of this are immediate and seductive, a sensory experience with a seemingly organic entity.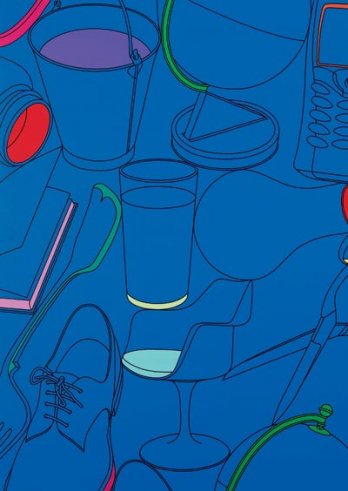 Michael Craig-Martin_Blue