Moscow
Design and Architecture in 9 motions
V. Kotova, January 7, 2008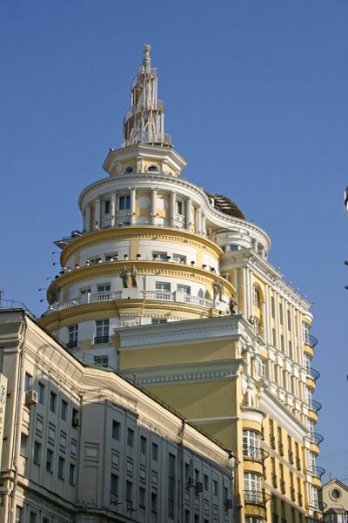 Patriach_Sergej Tkatschenko, V. Belskiy, I. Voznesenskiy, A. Kononenko, M. Liykin E.Spivak, V. Gnedin, E. Skatchkova
Patriach
A capriccio of all forms of architecture that do justice to the idea of a « Moscow Style » is crowned by a paraphrase on Vladimir Tatlin's Monument to the Third International. The residence owes its name to the Patriarch Pond, located nearby.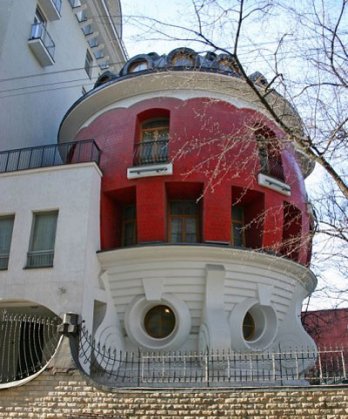 Fabergé-Egg House_S. Tkachenko, E. Skatchkova
Fabergé-Egg House
This distinctive four-story house, designed to resemble a multi-colored Fabergé Egg, humorously explores architectural allusions ranging from baroque to art nouveau. It was designed as an eye-catcher for a convetional housing estate.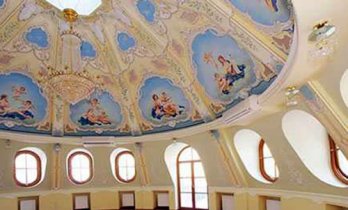 Fabergé-Egg House_S. Tkachenko, E. Skatchkova
Metro Majakovskaya_N. Shumakov, G. Mun, Ja. Mun, I. Lubennikov (Mosaic), M. Belova, E. Hanukova, D. Saveljeva
Metro Majakovskaya
One of the most beautiful stations of the Moscow Metro subway has been provided with a second exit to Tverskaya Street. The golden mosaic ceiling of the new vestibule bears clouds and quotations from a famous poet of the revolution, for whom the station was named.
Metro Majakovskaya_N. Shumakov, G. Mun, Ja. Mun, I. Lubennikov (Mosaic), M. Belova, E. Hanukova, D. Saveljeva