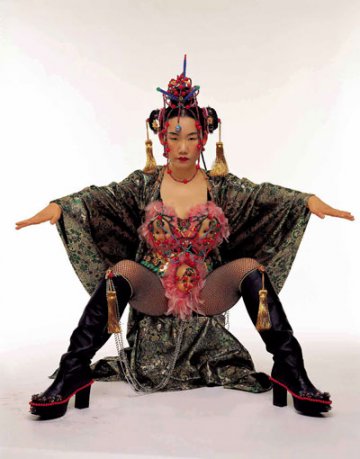 Lee Bul
On Every New Shadow
Linda Chenit + Grazia Quaroni, January 7, 2008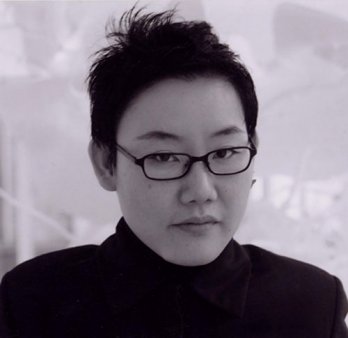 Lee Bul_Reinhard Mayr Bawagfou
Lee Bul, one of the leading Korean artists of her generation, will present an ambitious new sculptural installation at the Fondation Cartier pour l'art contemporain in Paris. Variously suspended in mid-air or anchored to the floor, the sculptures constitute a singular environment that engages with the surrounding Jean Nouvel architecture, inhabiting and elaborating on its physical and conceptual frameworks. Complex and sensuous, the artist's installation manifests the disintegration of utopian aspirations that continue to haunt the collective imagination in a darkly seductive space of glittering ruins and vestiges.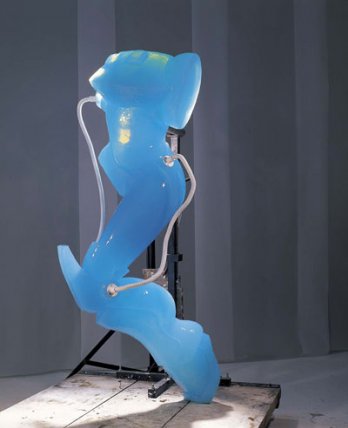 Lee Bul_Cyborg Blue_1997-1998
Born in South Korea in 1964, Lee Bul initially studied sculpture, but quickly extended her practice to various media: in the late 1980s she began creating voluminous forms that were often paired with performances. Some of these sculptures, with stuffed appendages and extensions, were worn in performances in the streets and other public spaces, in representations of the body as a mutable, artificial, and sometimes monstrous construct. The artist's interest in the human form, simultaneously a body as well as a social entity, continued into the late 1990s when these themes were developed in her Cyborgs and Anagrams series, sculptures made of fantastical and twisted tentacle-like limbs or baroque bio-mechanical forms.
Lee Bul
These creations expand the idea of the physical body to include new technologies that redraw the frontiers of human existence, where the borders between reality, science, and fiction are intentionally left up to individual interpretation. Lee Bul gladly combines sound, video, and solid objects that are a cross between
sculpture and design, according to her artistic needs.