Marina Bautier
Atelier A1
D.B., January 7, 2008
Marina Bautier_Keyplug
D.B.: How many bags is Posso planning to produce and sell?
M.B.:
For now, we're making a series of a thousand pieces per model, 6,000 pieces in all. This really is only a small testing sequence. If the product is a success, we'll probably make them by a 20,000 per model a year, or even more.
It will depend on its success.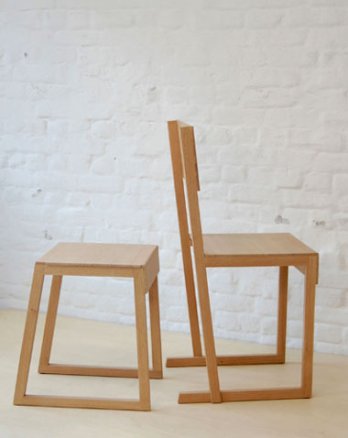 Marina Bautier_Chaise
D.B.: Would it be indiscrete to ask you about your wages: are you paid with the product's returns or do you receive royalties?
M.B.:
My reimbursement will exclusively be made up of royalties. However I asked for a small budget for the additional work I had to do afterwards: such as the making of the prototypes, the follow up of the production, the design of the packaging, the contacts with the manufacturers, etc. But it really was the work of a whole team.
Marina Bautier_Keyplug