Marina Bautier
Atelier A1
D.B., January 7, 2008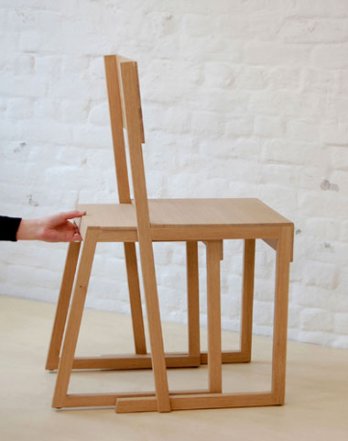 Marina Bautier_Chaise
D.B.: And what are you up to now?M.B.:
Recently, I have moved in with 4 other designers in an atelier in Brussels.
As for my object production, I decided not to carry it out myself anymore, but search for editors instead. This is one of the reasons I'm going to the Furniture Show in Milan next April.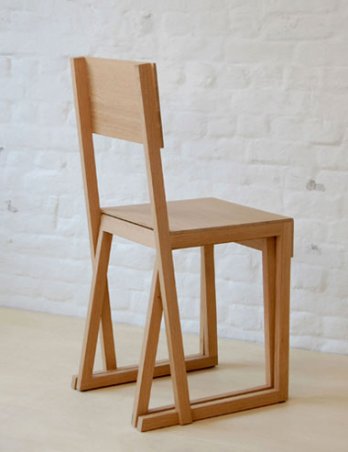 Marina Bautier_Chaise
D.B.: Were you trained for working on industrial level as you are doing right now with Posso? Did you have any pervious experience in this way of working?

M.B.:
Not quite. During my years at art school I'd rather learned how to develop my own projects, mainly objects for interior decoration, and then find an editor to produce the objects. I must admit that when I was first offered this assignment, I wasn't sure about what to do. Most of my projects had been interior design objects. But I seized that chance and decided to go for it. Later on I noticed that my way of developing furniture was equally fit for this kind of projects. I didn't change my working methods.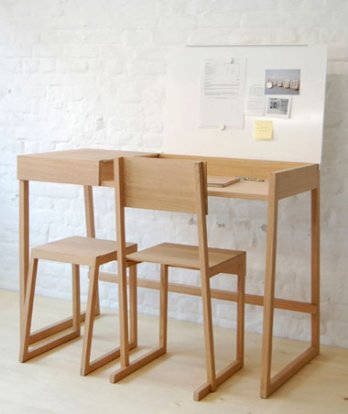 Marina Bautier_Bureau
D.B.: When you first showed us the prototype of your Poupées Russes bag, it was quite a good model. Do you usually go immediately over to a 3D object?M.B.:
As a matter of fact I do. I start off with draft on paper. But very soon I need to fabricate the object in order to have a clear idea of its effect and its mechanics.