Mathieu Lehanneur
BEL-AIR, a new air-filtering system using plants
Anthony van den Bossche, December 10, 2007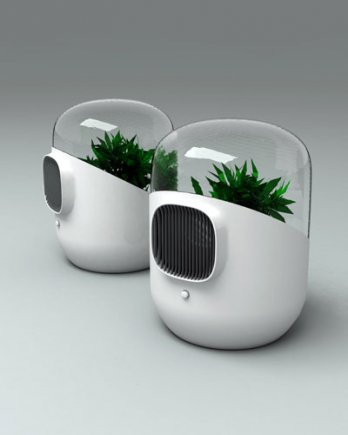 Mathieu Lehanneur_Bel-Air
A graduate of the ENSCI-Les Ateliers in 2001, his diploma project is a proposal for how to design and develop pharmaceutical drugs in the light of the relationship between patient and his illness. He gets the same year the Exchange ANVAR. He gets the Carte Blanche VIA in 2006 and received the Grand Prix de la Création de la Ville de Paris. Since 2004, he was director of Postgraduate Design & Research at the Ecole des Beaux-Arts de Saint-Étienne/Cité design.
Mathieu Lehanneur_Xavier Courteix
Mathieu Lehanneur takes part of the "Design Now" selection, edited by Taschen this fall, as one of the 80 most innovating designers in the world. Graduate from ENSCI- Les Ateliers in 2001, he explores the technological advances for their functional possibilities and their abilitiies to produce magic. His research works emphasizes on the links and the invisible frictions that govern our relations to the daily environment. The "Therapeutic Objects", his first emblematic project, proposed a new design for taking medicine, which integrates the patient relations with his/her disease. He revealed himself at an international level with the "Elements" series (2006), a line of "Health Angels" composed by five domestic objects designed to fill up our physiological deficiencies (such as the lack of light in the winter) and to baffle the exterior aggressions (sonorous and air pollution) to which we are subjected.