Daphne Odjig
"Picasso's grandmother" + The Indian transition
Jann L.M Bailey, October 15, 2007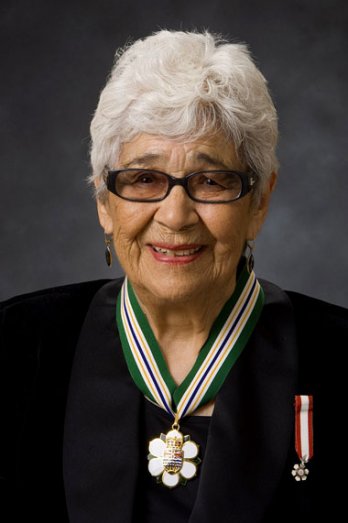 Daphne Odjig
If my work as an artist has somehow helped to open doors between our people and the non-Native community, then I am glad. I am even more deeply pleased if it has helped to encourage the young people that have followed our generation to express their pride in our heritage more openly more joyfully than I would have ever dared to think possible.


Ms. Odjig, who turned 88 on September 11, has enjoyed a flourishing career and worldwide recognition thanks to a distinctive style that interprets Native themes through a Cubist lens.
Born and raised in the village of Wikwemikong, on Manitoulin Island, Daphne Odjig has strong traditional roots in her Native culture (she is Potawatomi, Odawa, and English) and is proud of the artistic tradition of her ancestors. Her grandfather, Jonas Odjig, carved tombstones for the nearby church and later sketched and painted church landscapes. Her father painted war scenes and portraits of soldiers from the Great War, and was a talented musician. Growing up on a dairy farm, Daphne was no stranger to hard work. Nevertheless, she and her three siblings found time to enjoy the local swimming hole in the summers and local storytelling in the winters. Unfortunately, at age 13, a bout of rheumatic fever cut short her school attendance - an event that frustrated her because she had plans of becoming a schoolteacher. Later, Daphne treasured the convalescent time she spent at home because it had provided the opportunity to become very close to her mother and grandfather.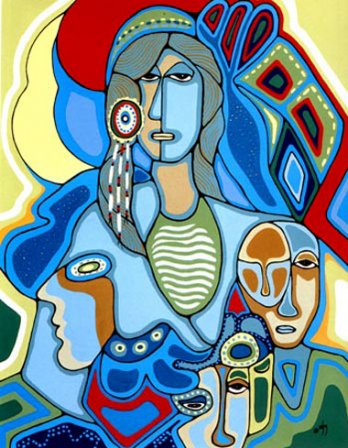 Daphne Odjig Potawatomi
As it happened, these two important people in her life died when she was 18 years old. Soon after, Daphne left the "Wiki" reserve for small-town Ontario, that is, Parry Sound, where she experienced racial discrimination for the first time. It was here that she and her siblings used the surname "Fisher," the English translation of "Odjig," as a response to the prejudice. During the early years of World War II, Daphne moved to Toronto for job opportunities. Here, she met her first husband, Paul Somerville, whose military post took them to the West Coast. It was not until their two sons were attending school that Daphne began to take her painting seriously.