Palimpsest and Emotion
The Cultural spaces
Nargisse Rafik, May 18, 2020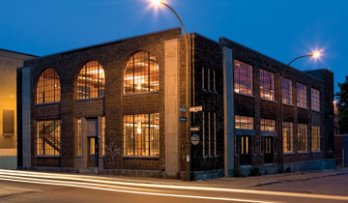 Parisian Laundry P. Nicolas Ruel
The Parisian Laundry – Montreal
2001-2004
Surface area: 1,400 m2 (15,000 sq. ft.)
Building and Location
Located in the former industrial district of Saint-Henri, the building of the current Parisian Laundry gallery was built between 1929 and 1933 to house the former commercial laundry of the same name. After a period of neglect and several proprietors later, the conversion work, which took place in stages over a period of two and a half years, was initiated by a Montreal entrepreneur.

The project managers who designed the conversion were Julien Architectes in Montreal. They won the Medal of Excellence in the 1999 Governor General's Award for Architecture, for the Centre d'intérêt minier de Chibougamou, which showcases their extremely minimalist and precise concept of architecture.

The Project
The architects' work was guided by their client's desire to restore the building's structure as much as possible. Thus, the brick masonry was not altered by new insulation work and the interior masonry was preserved. The large windows were restored to their original condition. Prior to the transformation, the windows were obstructed and the brickwork was in poor condition. Today, they have regained their lustre, and the juxtaposition of semi-circular window arches with the door lintel and flanking pilasters creates a harmonious rhythm for the main facade. The mullioned windows are typical of industrial architecture. The architects also kept the interior space free from obstruction by putting new staircases on the building's exterior. The interior features exposed timber beams, which give warmth to this stripped-down masterpiece.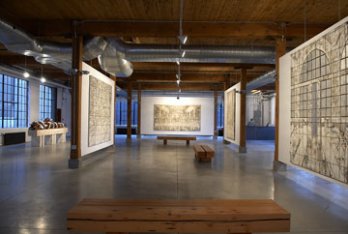 Parisian Laundry P. Alain Lefort
The modern flourishes are clearly discernible, but unostentatious: subtly rendered in a contemporary industrial idiom, they feature stainless steel (staircase) or light fixtures that are deliberately stark and functional in appearance.

This rare building has windows on all four sides - rather than the skylights and solid walls typical of industrial buildings of the period. A gallery space that's pleasing to the eye, the Parisian Laundry is a welcoming space where the ambiance varies according to the day's rhythm. During the day, the interior feels much larger, as it is open to the street on all sides, which intensifies the feeling of exposure. At night, it is the exterior that appears transparent and open. A little gem of urban conversion, this gallery stamps the cityscape with a unique imprint.