Palimpsest and Emotion
The Cultural spaces
Nargisse Rafik, May 18, 2020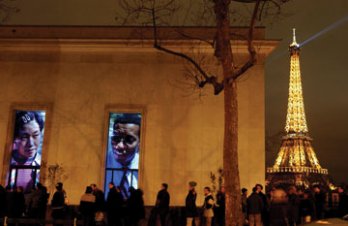 Palais de Tokyo P. Marc Domage
Palais de Tokyo, space for contemporary arts - Paris
1999-2002
Surface area: 8,000 m2 86, 000 sq. ft.), half of which is dedicated to exhibitions and open to the public

Building and Location
The present Palais de Tokyo building, space for contemporary arts (originally the Palais des musées d'art moderne of the museums of modern art) was built in 1937 for the Exposition internationale de Paris. It comprises two individual buildings: the west wing, owned by the State; and the east wing, owned by the City of Paris. Of monumental scale, their facades of comblanchien and travertine extend along either side of a portico, giving out onto a terrace along the banks of the Seine. The main entrance, in a corner of the site of the contemporary building opens onto a space that, today, is in strong contrast to its exterior. Conceived from the outset as a space for culture and exhibitions, it has undergone major modernization, first in 1954 and again in 1971. In 1999 the ministry for culture and communications launched a competition for the proposed space for contemporary arts, to be housed in the structure once intended for the Palais du cinéma.

Architects Anne Lacaton and Jean-Philippe Vassal, known for their organic approach to the design of individual homes, won the competition.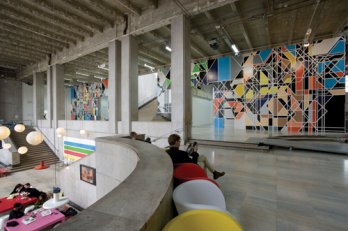 Palais de Tokyo P. Kleinefenn
The Project
The new work on form and structure for the exhibition space maintained and utilized the original modern features of the structure, such as concrete posts and beams, and large windows. The demarcation of the spaces is straightforward: they evoke open cultural spaces such as Jemâa el Fna square in Marrakech, spaces which naturally encourage spontaneous interaction and movement. The interior walls have been left rough, symbolizing industrial decay.

Everything is has been designed for aesthetic contrast and versatility.. For instance, the windows have been temporarily transformed into frames for Beat Streuli's photographs, which can be viewed from both sides of the building's exterior.

The creation a mobile and flexible space, one adapted to the functions and requirements of contemporary arts, contrasts with the historical perspective of the building one gets when it is viewed from the banks of the Seine. The architects have played on a broad range of senses, with a nod to classical architectural history and the emphasis it places on the sense of sight. In fact, one requirement of the project was to ensure that the structure maintained consistently comfortable temperatures and maximum exposure to natural light – a challenge when considering the orientation and visuality of its imposing spaces. All of this subtle fine-tuning has, in immaterial and subliminal ways, made this space culturally habitable.