Palimpsest and Emotion
The Cultural spaces
Nargisse Rafik, May 18, 2020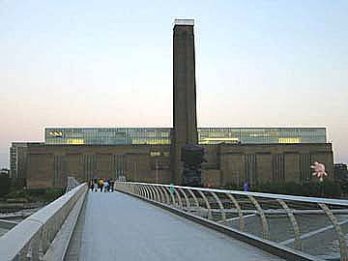 The Tate Modern Gallery – London

1994-2000
Surface area: 11,150 m2 (120,000 sq. ft.) exhibition space
Building and Location
Opened in 2000, the Tate Modern Gallery welcomed its new public in a converted power station. The immense red brick building was the work of Giles Gilbert Scott, who completed the finishing touches in 1933. Financed by the English national lottery, this conversion was also intended to revitalize the Bankside industrial area. The Millennium Bridge, designed by architect Sir Norman Foster and sculptor Sir Anthony Caro, was built at the same time. This bridge links the area around St. Paul's Cathedral to the new museum and integrates this bank of the Thames to the city.
The project managers for this conversion were architects from the Swiss firm Herzog & Meuron, who won the 2001 Pritzker Prize for their work.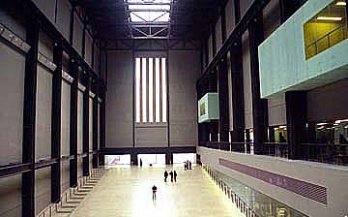 The Project
The central tower, a visual point of reference in the area, was separated from the main building by the removal of its retaining walls. The former turbine room was stripped of machinery to create a very long space for the main gallery space and concourse. The architects worked masterfully within this highly directional space, which is 26 metres high and 152 metres long: on the lower levels, the reception and service areas extend over the length of the building; on the upper levels, the side rooms, conceived as chambers from which one still see the installations in the main gallery, and whose white perimeter is accentuated with white light, house other display spaces. They are drenched with natural light from narrow apertures which rise up rhythmically along the length of the exterior wall. Seen from the main gallery, the contrast between the white frames and the ubiquitous red brick defines the walls. Steel ramps are suspended above the gallery, allowing for different vantage points from which one can contemplate works that are themselves of architectural scale, such as Louise Bourgeois' famous spiders, exhibited in this space in 2000.
Outside, a steel ramp links the pedestrian level to the main entrance of the west façade.

The most indisputably modern touch is a two-storey stained glass window at the top of the building, where a restaurant and other public rooms are installed. Its crystalline spaces are accentuated by an illuminated ramp that, combined with the lighting from the tower's summit and building's base, highlights the Tate against the night sky.