Herzog & de Meuron
The duet of sublime and the picturesque one
Philip Ursprung, August 29, 2010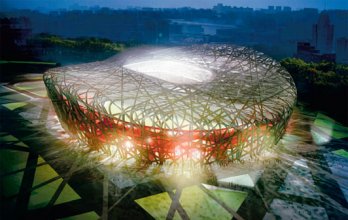 Herzog & De Meuron_Olympic Stadium_Beijing
Olympic Stadium - Beijing, 2006
The stadium that is to host the 2008 Olympics is a futuristic "interwoven" building built to a design by Swiss architects Herzog and de Meuron.
The stadium's 91 thousand seats are arranged in a circular structure with an unusual meshed roof that has inspired the Chinese to nickname it the "bird's nest". The project won an international competition announced in 2002 with its original solution inspired by the weave of a nest made up of thousands of interconnected twigs. The project is made even more complex by the fact that this "mesh" is not only its roof and cladding, but its façade and the container for its stairways. The most important material used in the project is cement, used to make the "twigs" in the nest; a series of inflatable "cushions" between them gives the stadium a padded look from outside. In addition to the strong aesthetic power of the mesh, the metal elements have an important structure function, joining and interweaving to support one another.
Herzog & De Meuron_Olympic Stadium_Beijing
Though the viewer gets the impression that the arrangement is random, almost as if the "twigs" had fallen in place, the meeting points of the various elements and their direction in the nest are of course carefully calculated. The particular function of the stadium, which will be the main site of the 2008 Olympic Games, suggested that it ought to be possible to close it off completely. And in fact the roof in the central part is a clear membrane through which daylight can pass. The rest of the structure is covered by a translucent layer to shelter it from the weather and a second layer providing acoustic insulation. Herzog and de Meuron's architecture, with its thoughtful choice of materials and application of new building solutions, has made the project an opportunity for experimentation and research, both in the "creative" design and on the building site.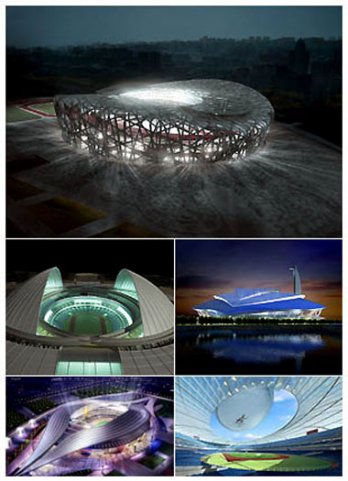 Herzog & De Meuron_Olympic Stadium_Beijing
The
stadium
looks like a spaceship that has landed in the centre of the area that will host all the Olympic facilities, with a silent imposition and attractive gently undulating forms. Internal routes are "marked" by slate elements with little bamboo groves, blocks of stone and covered gardens here and there.The visual impact of this architecture in which façade and structure are the same thing is surprising, despite the simplicity of the idea behind it. Whether seen from afar or from nearby, the construction amazes us with its geometry, its design, and its interweaves, so natural and yet so complex.