Five Nights at the Museum
The union of Art with Architecture
Trevor Boddy - Enroute Magazine, August 27, 2007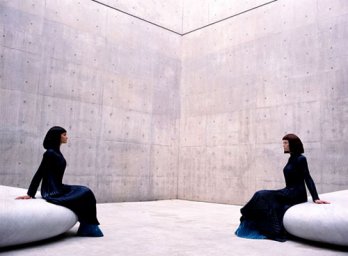 Tadao Ando_Pool_Chichu Art Museum_Naoshima
In the village of Honmura - arrived at on a borrowed bike - I visited the hilltop Go'o Shrine. Here one-half of an 18th-century Shinto shrine was restored, and then a new companion temple in contemporary materials was created by artist Hiroshi Sugimoto. An artwork for veneration in every sense, the contemporary shrine consists of a staircase running from the older shrine's steps to deep within the soil, the risers formed entirely from in-situ cast glass. These sparkling stairs also suck sunlight downward - step by step - into a mystical underground chamber, which art pilgrims can enter through a slit-like concrete passageway. Gazing up at Go'o's haloed stair light from a crude dirt floor, I struggled for a critical take. "Architecture gone sublime without the burden of function." A little wordy. Or this banner: "Young British artists' Japanese cousins enter zazen satori" - a Buddhist idea which means sudden enlightenment through disciplined meditation.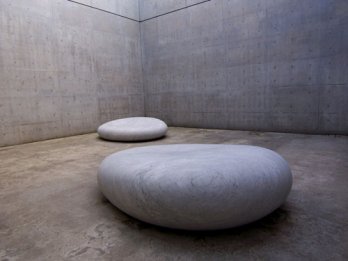 Tadao Ando_Pool_Chichu Art Museum_Naoshima
Twenty years ago, the increasingly renowned art collection of the Fukutake family's Benesse company – the publishing giant that owns Berlitz – needed a permanent home. But instead of opening a Saatchiesque gallery, the family imagined a union of art with architecture, commissioning the first of a string of art-related Naoshima buildings from Osaka's Tadao Ando, who went on to win the 1995 Pritzker Prize, architecture's Nobel. Margaret Jenkins, who has run the prominent San Francisco modern dance troupe bearing her name for 30 years, announced soon after arriving here that Ando's was architecture ripe for dancing. Inspired by Naoshima's art, Toulon fashion designer and fellow guest Isabelle Agnel-Gouzy pulled out a different hand-painted couture dress of her own devising for every breakfast and lunch, not just dinner, telling me that James Turrell's Backside of the Moon optical phenomena had urged her on. The experience of art at Naoshima could not be more different from the flashed glimpses of masterpieces filtered through mass herding we have come to tolerate at any major exhibition at the Tate, MoMA or AGO. Here art appreciation is lived, not taught.
Tadao Ando_Chichu Art Museum_Naoshima