Five Nights at the Museum
The union of Art with Architecture
Trevor Boddy - Enroute Magazine, August 27, 2007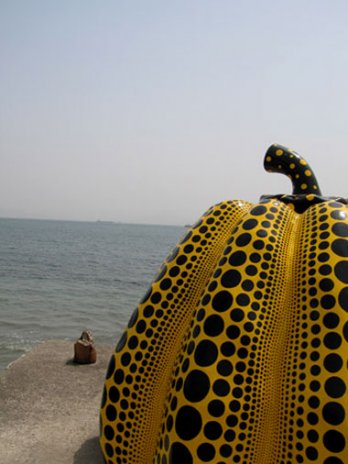 Yayoi Kusama, Pumpkin 1994-2005_Naoshima_Japan
I had come here to drink in the art for a few days but also to think about the fate of a marriage: that troubled relationship between the exhibition of art and the increasingly boisterous buildings opening all around the world that showcase it. In the aftermath of too many formy, mock-sculptural art museums by Frank Gehry, Will Alsop and Daniel Libeskind, the Bilbao Effect had become bilious for me. Too much of this architecture was a distraction, not a complement to the painting, sculpture, photography and installation art contained within. The ancients called architecture the mother of the arts, but now it was smothering.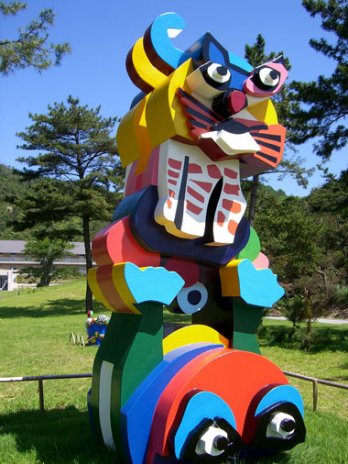 Benesse Art Site_Naoshima_Japan
Naoshima is home to one of the great experiments in contemporary visual culture. The lush, remote island dotted with ancient villages has been transformed into a site for the seamless integration of leading-edge art, the contemporary good life and up-to-the-minute design. You get to wake, eat, relax and sleep with the art. What this means came clear later that night, following a kaiseki dinner saturated with hues and flavours inspired by the surrounding art. I stumbled onto a twentysomething Japanese couple sprawled across the museum floor. They alternately gazed at the army of hundreds of Power Ranger-like figures in Yukinori Yanagi's
Banzai Corner,
then got back to heavy petting, oblivious. A few minutes later, I walked through the immense concrete drum at the museum's core, where the sole light was the flashing neon array of Bruce Nauman's 100 Live and Die, illuminating a quiet debate by three developers from Tbilisi. I followed up a shiatsu massage the next day by soaking in the art – in both senses – with a dunk in the Jacuzzi, set within a ring of Chinese standing stones at the centre of Cai Guo-Qiang's
Cultural Melting Bath: Project for Naoshima
.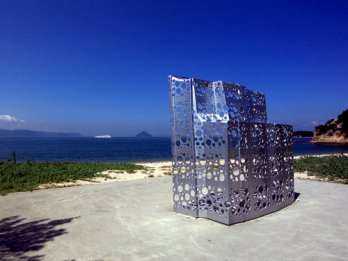 Benesse Art Site_Naoshima_Japan