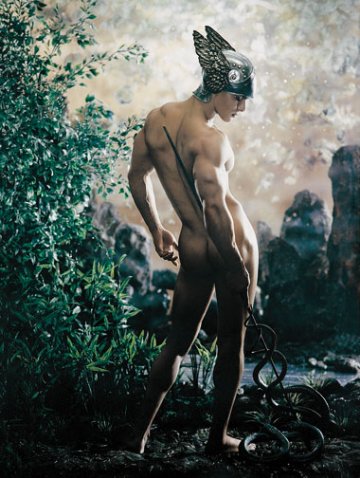 Pierre and Gilles
Double Je (1976 - 2007)
Jade Lobato de Faria, July 30, 2007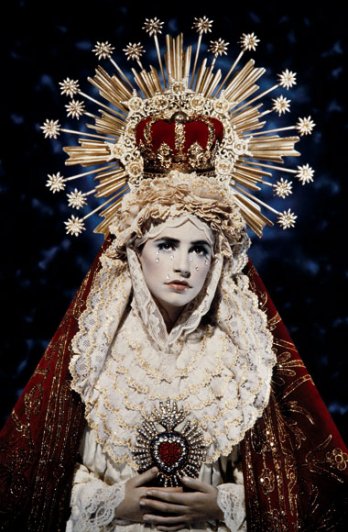 Pierre and Gilles_La Madone au coeur blessé, 1991_Galerie Jérôme de Noirmont_Paris
This retrospective exhibition celebrate Pierre et Gilles' 30 years of collaboration, with more than 120 works including a lot of creations from the last ten years and, for the first time, the collection of their self-portraits. The Pierre et Gilles style has known nothing but success since their first meeting and the beginning of their collaboration in 1976. Their photographs embellished with paint (these are unique works) have imposed this singular iconography inspired by images of pop, mythological, enchanting, burlesque, religious and erotic natures. Many of these themes addressed in their work structure this exhibition.
Their original aesthetic finds its source as much in the history of art (baroque, 19th century…) as in popular culture and in contemporary imagery. Their sources of inspiration are multiple: travel, music, pop songs, cinema and television, childhood, religious art of all origins, myths, current topical images…
The two artists explore these recurrent themes which are inscribed in the collective imagination as the years go by and reinvent images with no boundaries or taboos.
Essentially Pierre et Gilles create portraits and self-portraits which they address with provocation, irony, tenderness or gravity. "Self-portraits have determined our work from the start. It is a ritual, which allows to double ourselves like looking in a mirror; they reflect us and show us such as we are. They are also experiments, very personal research that we can only create with ourselves."