Charles & Ray Charles
An Iconic couple of modern design
Bernadette Deloose, June 22, 2015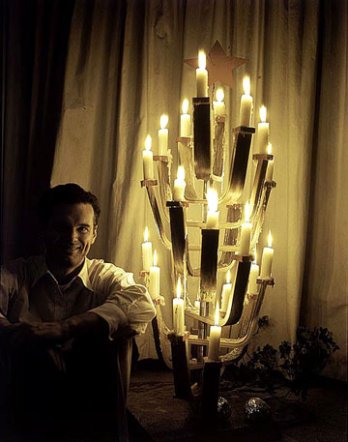 Charles Eames_Christmas Tree, 1946_San Francisco_USA
In New York Ray came into contact with movements which dreamt of modern design art as a means to change society. This was also evident in the new teaching plan of the Cranbrook Academy of Art in Detroit, which would attract Ray and Charles at the end of the 1930s. At Cranbrook, a holistic concept of design was taught. There were classes in architecture, art, urban development and artisanal arts. When Charles and Ray met, he was lecturing design and she was taking weaving, ceramic and metal shop classes. The basic philosophy at Cranbrook, the belief in a better life through better design, would leave a lasting impression on both of their lives.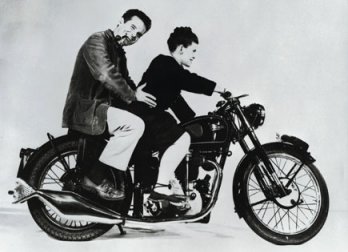 Charles & Ray Eames_Eames Office_USA
The Second World War opened up new possibilities for cooperation between art and industry. Six months before the attack on Pearl Harbour, Charles and Ray married and moved to Los Angeles, America's last "frontier town". Here, they sought to begin anew, liberated of the social and professional pressures inherent to life in Detroit, St. Louis or New York. Los Angeles was the ideal testing grounds for design art to show it had the audacity to take on functional challenges with which a country at war was faced and which were unknown at the time. In this global war, domination in the air became a factor of increasing decisiveness, and accordingly, Los Angeles further consolidated its position as the centre of the aeronautical industry in the United States at that time. Many who came to Los Angeles hoping to find well-paid work in the war industry ended up with the major airplane manufacturers such as Douglas, Lockheed and Vultee. These companies offered designers such as Charles and Ray Eames a fascinating look into the future of design of modern factories and on new materials and techniques applied in airplane manufacturing. "With planes, you can immediately tell what possibilities the streamline's shape has to offer", Charles Eames wrote shortly after his arrival in Los Angeles. "Here it is evident that streamline is sound and good".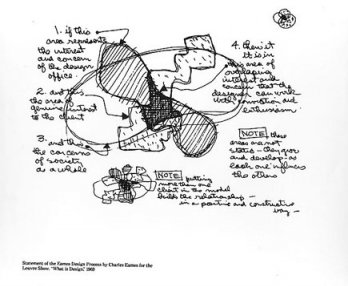 Charles & Ray Eames, Sketches_USA