Charles & Ray Charles
An Iconic couple of modern design
Bernadette Deloose, June 22, 2015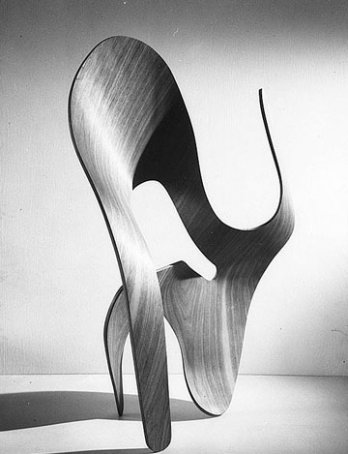 Charles & Ray Eames, Molded-plywood sculpture, 1943_USA
The success with which the Eames succeeded in shaping the America of their time has its roots in their own past, as this history was inseparably connected to their country's history. Highlights in their career occurred at times of major events in the development of twentieth-century America. Both were born before the First World War - Charles Eames in 1907 in St. Louis and Ray Kaiser in 1912 in Sacramento. Charles grew up in the industrial heartlands of the United States. As a young man, he worked in workshops and factories, and this is where he developed his lifelong fascination with machines and complex mechanical connections. One of his first passions, artistically as well as technically, was photography. The economic world crisis also had a great impact on his personality. Charles worked hard in order to establish himself as an architect, and for a certain period of time was given support by the Works Progress Administration, an agency which was part of Roosevelt's New Deal – exactly the kind of activist, culture-friendly government which was later to promote the twosome, and which was also to realize a great number of their post-war projects.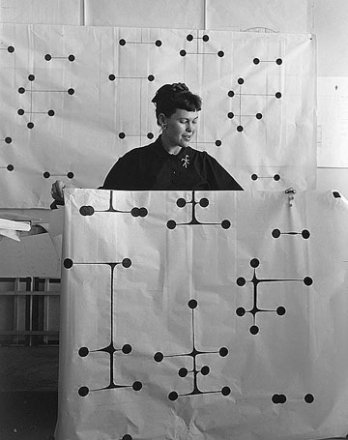 Ray Eames_Dot Pattern Fabric Design, 1947_San Francisco_USA
Charles was thrilled with the way art served the economy during the Depression years, but it was Ray who fitted the artistic movements of modern times into their dynamic reality. Ray's ideas on art were shaped by the theatre, the ballet and the exhibitions on display at the College she attended, the renowned May Friend Bennett School near Poughkeepsie in the state of New York. After her final exams, Ray moved to Manhattan in 1933, which was at the time the centre of modern post-war art in America. She began to paint abstractly, was one of the first female abstract artists in America, displayed paintings and took lessons with Hans Hofmann, one of the trendsetting artists of the time, and later on an important binding factor in abstract expressionism.