Charles & Ray Charles
An Iconic couple of modern design
Bernadette Deloose, June 22, 2015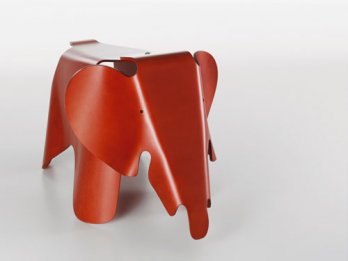 Charles & Ray Eames, Toy Elephant, 1945_Eames Office_Vitra AG_Germany
Kem Plywood Elephant
The little elephant, a well-known design of Charles and Ray Eames, is finally released onto the market 62 years after its creation. For Charles Eames' 100th birthday, Vitra will be releasing a limited edition. The Plywood Elephant is considered a legend among collectors. Only two pieces were ever produced of this design, and they were put on display at an exhibition at the MOMA immediately after production. Today, only one piece remains known. It is owned by the Eames family. With this stool, Charles and Ray Eames are playing with shapes from the world of children in an endearing way, and along the way they create a language of the senses which appeals to both children and adults.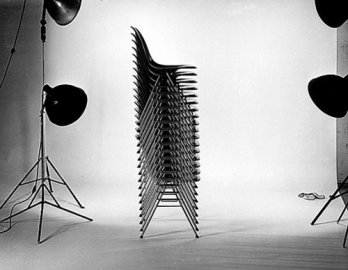 Charles & Ray Eames_Fiberglass-reinforced Plastic Chairs, 1954_USA
Fibreglass: a new material
In 1948 Eames developed his first experiments with glass fibre reinforced plastic, a material which was considered to be a miracle material by the American air force, a material with which anything was possible. In any case, it provided Eames with more freedom to shape, but the design remained largely unchanged compared to the plywood chairs. For The Herman Miller Furniture Company, the investment in the fibreglass chair proved to be one of the most profitable in the history of American furniture design. Initially, the chair was supplied in grey and beige. The many cheerful colours which the chair became known for to later generations were only added to the line in the 1960s.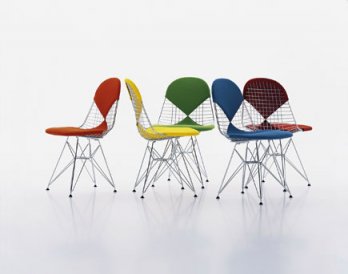 Charles & Ray Eames_Chairs DKR-2, 1951_Hans Hansen_Vitra Collections_Germany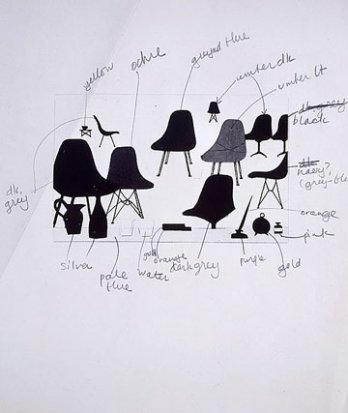 Charles & Ray Eames, Drawing for postcard_USA