Charles & Ray Charles
An Iconic couple of modern design
Bernadette Deloose, June 22, 2015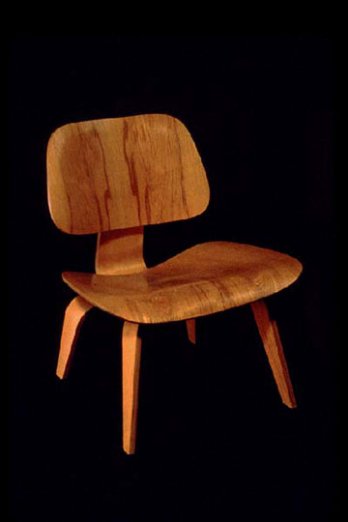 Charles & Ray Eames_DCW-Dining Chair Wood, 1946_USA
Experiments with plywood
The manufacture of plywood furniture in itself was nothing new. The avant-garde, however, saw plywood as a cheap material for rendering furniture affordable. Alvar Aalto was a source of inspiration. In 1941, Charles Eames began his experiments with shapes of layered wood. He particularly strove to attain mass production of doubly bent surfaces. The outbreak of the Second World War offered the possibility to experiment further. By order of the navy, large quantities of leg splints were produced. By the end of the war, the techniques were so refined that Charles Eames was able to produce the desired shapes. After an exhibition at the MOMA in New York, The Herman Miller Furniture Company introduced the chairs to the masses. The plywood was first bent and then pressed into the desired shape and hardened. These experiments were the basis for the development of the Lounge Chair in the 1950s.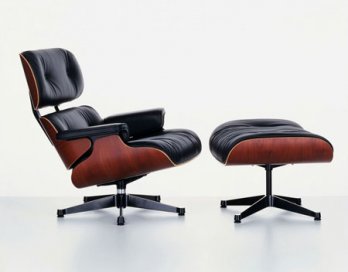 Charles & Ray Eames_Eames Lounge Chair & Ottoman, 1956_Hans Hansen_Vitra Collection AG_Germany
Eames Lounge Chair and Ottoman
This contemporary interpretation of a classic club chair dates back to 1956 and has become famous the world over. The cutting edge design became a status symbol. The seat and back shell and the arm rests are made of shaped plywood and are connected to each other by rubber and metal connections. The removable upholstery elements have a leather covering. The whole unit rests upon an aluminium bottom structure. Charles Eames stated that with this design, he strove for ultimate comfort, made from materials of the highest quality. Exactly as Eames envisioned, the chair calls to mind a soft, worn-in baseball glove into which everyone just wants to blissfully nod off. Last year, at the fifty-year anniversary of the chair, Vitra released a special celebratory edition of only 999 certified pieces.