Charles & Ray Charles
An Iconic couple of modern design
Bernadette Deloose, June 22, 2015
Charles & Ray Eames, Lounge Chair Prototype, 1945_USA
The post-war period, a time when both were garnering acclaim, was also the time in which the focal point of American society was transferred from the east coast to the west coast more and more. The Eames were not the only ones to depart for Los Angeles. Over 15 million Americans packed for the west coast during the war, looking for well-paid jobs in the arms industry. Particularly the states of California, Oregon and Washington with their ship wharves and airplane manufacturers were changed significantly: in Los Angeles and its surrounding area alone, 500,000 souls came to settle. The economic and demographic consequences of this human migration definitively altered the weight distribution between areas, and gave the west coast a new identity and independence. Even after the war, its economic prosperity and its mild climate kept luring Americans to Southern California; its population doubled between 1949 and 1965.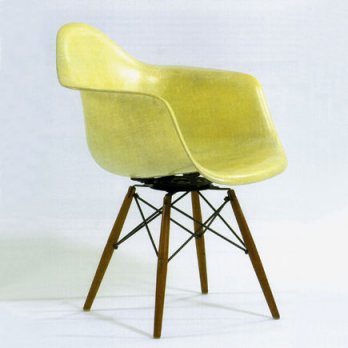 Charles & Ray Eames_Armchair DAW, 1948_Studio Claerhout_Design Museum Gent_Belgium
In those years, Los Angeles and Southern California were the pinnacle of the American dream to the rest of the world. A radical new style of living developed here in the houses with their patios and in the vast car cities. Magazines such as "Life" and "Vogue" published articles on Charles and Ray Eames, how they enjoyed the fruits of post-war America, how they succeeded in uniting work and leisure, indoor and outdoor life, sophisticated arts and popular images, state-of-the-art technology and traditional crafts. Both the Eames and their work seemed original and new, and were as such the embodiment of the spirit of independence and the "self-made man" which was already so typical of America in general and of Los Angeles in particular. Even though they rarely advertised post-war Los Angeles, they were nonetheless regarded as icons of this mythical place where man had subjugated machine, nature and history.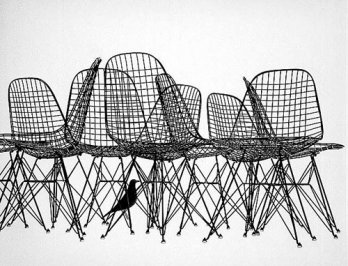 Charles & Ray Eames, Wire Chairs & Eameses Bird Sculpture, 1952_USA