Eero Saarinen
Back to the Future...
Donald Albrecht, December 25, 2010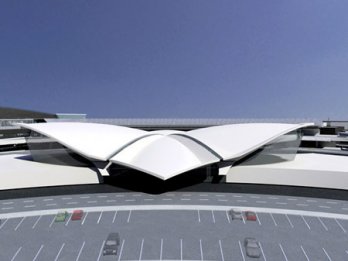 Eero Saarinen_TWA Terminal New York International (now JFK International), Circa 1962_Balthazar Korab_New York_USA
Building for Postwar America: Nation, Business, Living, Community
This is the main and largest section of the exhibition. While the "Milieu" sections will present contextual material on Saarinen's family, friends, colleagues, critics, etc., these areas will focus on the buildings' aesthetics via original, never-before-seen drawings, furniture, models, and photographs, many showing art commissioned for them. Prominent will be a selection of photographic murals of the buildings under construction, which were widely publicized at the time and which give visitors a sense of the anticipation generated by Saarinen's unusual buildings. Also of special interest in this section will be full-scale building components, which will demonstrate the many technological firsts the Saarinen office created, as well as media specifically commissioned for the exhibition, such as computer renderings, short films that offer visitors the experience of Saarinen's buildings, and new interviews with colleagues and family.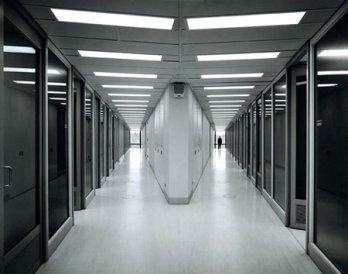 Eero Saarinen_IBM Manufacturing and training facility, Circa 1958_Balthazar Korab_Rochester, Minesota_USA
Eero Saarinen helped build an image of modern America both abroad and at home at the height of the Cold War. He designed two American embassies in London and Oslo and the less-known, unrealized embassy in Helsinki; memorials to major figures and moments in American history such as Thomas Jefferson and World War II; and prominent airport gateways that welcomed visitors to the optimism of the United States.