Eero Saarinen
Back to the Future...
Donald Albrecht, December 25, 2010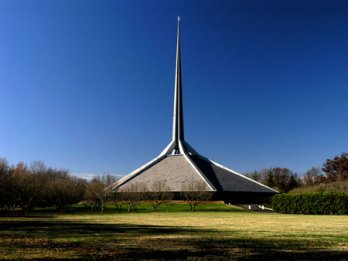 Eero Saarinen_North Christian Church_USA
In contrast, his round brick Kresge Chapel (1953-56) for the Massachusetts Institute of Technology and Yale's concrete-and-stone Morse and Stiles Colleges (1958-62) were frankly historicist, deferring to their time-honored university settings by drawing on images, respectively, of ancient grottos and Italian hill towns.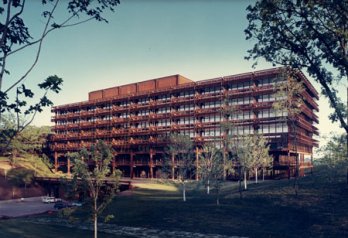 Eero Saarinen_Deere and Company Administrative Center, Circa 1963_Harold Corsini_Moline, Illinois_USA
Saarinen's stylistic range came to represent the postwar American ideal of an open-ended society of unbounded choice and diversity. Key to the successful projection of this ideal were Saarinen's visionary clients - businessmen like IBM's Thomas J. Watson and CBS's Frank Stanton who presided over the development of progressive technologies like computers and television. Saarinen, working in close collaboration with his clients, deployed equally progressive construction and mechanical systems for new office buildings set in bucolic corporate parks. At the same time, Saarinen himself embodied the free and creative individualist. Together, Saarinen and his work represented the image of capitalist America, ever new and dynamic and in full control of its domain.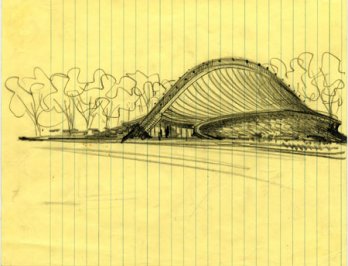 Eero Saarinen_Sketch of David S. Ingalls, Hockey Rink, Circa 1953_New Haven, Connecticut_USA