Eero Saarinen
Back to the Future...
Donald Albrecht, December 25, 2010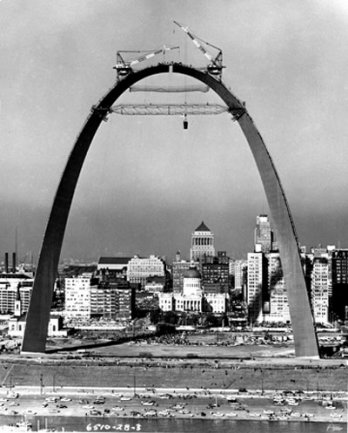 Eero Saarinen_United States Jefferson National Exposition Memorial, Under construction, 1965_Arteaga Photos Ltd_Saint-Louis, Missouri_USA
For these and other buildings, Saarinen rejected a single unifying style, preferring instead a diverse vocabulary inspired, he said, by each project's unique "site, program, and spirit." His multi-faceted oeuvre challenged the received orthodoxies of modern architecture. He advanced some of modernism's most revered precepts such as its emphasis on new building technologies while, at the same time, turning away from its minimalist principles and moving towards sculptural exuberance, metaphor, and historical precedent.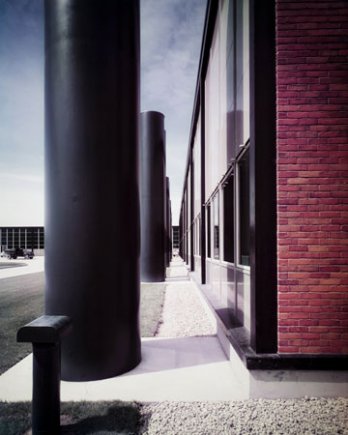 Eero Saarinen_General Motors Technical Center, 1948-56_Ezra Stoller_Warren, Michigan_USA
Saarinen's response to prestigious commissions from corporations such as General Motors, IBM, and CBS took the less-is-more aesthetic of Ludwig Mies van der Rohe in new and surprising directions. For GM he developed a bold color palette of exterior brick walls in tune with the latest model cars, and he clad the new corporate headquarters for Deere & Company (1957-63) of Moline, Illinois, in weathered Cor-Ten steel to evoke the ruggedness of the company's farm machinery. In contrast, the David S. Ingalls Rink (1953-59) at Yale and the Dulles International Airport Terminal (1958-62) outside Washington, D.C., identified Saarinen as a structural virtuoso of dynamic forms. The architect's 1958 pedestal chairs and tables for Knoll International tended towards organic, space-age shapes.