Eero Saarinen
Back to the Future...
Donald Albrecht, December 25, 2010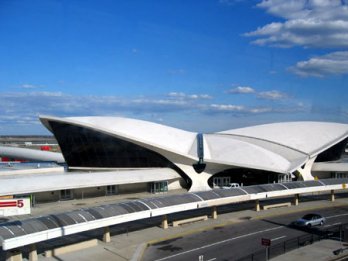 Eero Saarinen_JFK International Airport, Circa 1962_Balthazar Korab_New York_USA
Saarinen designed buildings for General Motors, IBM, Bell Laboratories, CBS, and Deere & Company in an era when "what was good for General Motors was good for America." Saarinen had a brilliant understanding of architecture's value for creating company image, often using new building technologies to brand forward-thinking corporations. For his business clients, he invented the first mirror glass curtain wall (Bell Laboratories), and the first use of a reinforced concrete frame in a skyscraper (CBS). Generally occupying pristine rural settings, these buildings represented the development of a new office type, the "corporate estate." IBM's Research Center in Yorktown Heights, New York, exemplified the new typology of a business palazzo that interpreted the traditional country estate in a modern, corporate esthetic, similarly evoking power and authority.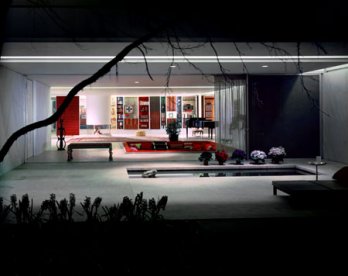 Eero Saarinen_Miller House, Circa 1957_Ezra Stoller_Indiana_USA
Although not well known as a domestic architect, Saarinen designed two classics of mid-century residential architecture: the Entenza House in Los Angeles and the Miller House in Columbus, Indiana. Together with the winning entry for the 1943 "Houses for Postwar Living" competition, organized by Arts & Architecture magazine, these projects were important milestones in the development of the formal, spatial, and technological paradigms of the modern house: the free plan, the continuum between inside and outside, and the use of prefabricated components. Saarinen's domestic furniture designs, which started with the winning entry for the Museum of Modern Art's 1940 "Organic Design in Home Furnishings" competition in collaboration with Charles Eames, have become icons of exuberant mid-century American design. The exhibition address how these domestic projects contributed to the reassessment of European modernism that dominated American architectural discussions during the postwar era.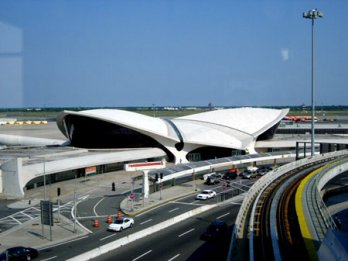 Eero Saarinen_TWA_New York International (now JFK International), Circa 1962_Balthazar Korab_New York_USA
Following the elder Saarinen's belief that "architectural-form equals social-form," Eero Saarinen attempted to create a sense of community through architecture, especially in his many designs for university campuses, chapels, and churches. Dramatically expanding in response to the postwar boom in college education, campuses became cities in microcosm. In his master plans and buildings for Vassar, Yale, and the University of Michigan, among others, Saarinen aimed to balance student comfort and privacy with amenities that encouraged social interaction and projected a larger common identity. Each campus project will be analyzed as a continuing refinement of this effort and will be placed in the broader context of the community building aspirations of Saarinen's religious and cultural commissions.
www.eerosaarinen.net