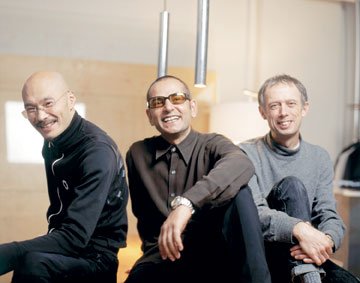 3rd Uncle Design
A multidisciplinary design studio
Georges Gignac, June 22, 2006
Toronto based 3rd Uncle Design made its name as a multidisciplinary design studio. Its innovative approach garners praise from the industry, whether it's for their residential, recreational or commercial projects. From architecture to furniture design, 3rd Uncle is now an established leader in eclectic style.

3rd Uncle's principals John Tong, Arriz Hassam and Paul Syme, are architects who bring an unconventional point of view to redefining spaces. For both renovation and re-construction, they demonstrate adeptness in maintaining highlights of the original while juxtaposing contemporary styles and elements. Ever attentive to texture and aesthetics, they apply old and new materials and furnishings to emphasize, or complement the "bones" of the original structure. New residential and commercial designs benefit from this same sense of style, where the juxtaposition of texture, clean lines, light, and whimsical furnishings delight the eye.
Drake Hotel P. George Whiteside
Featured in magazines such as Azure, Blueprint, Interiors, FRAME and Fashion, 3rd Uncle has attracted a sophisticated and knowledgeable clientele. They've earned awards from the Industrial Design Society and Canadian Interiors Magazine, and were named Designer of the Year at the 2005 Interior Design Show. Recent successes, such as the Drake Hotel, the "Icons of Elegance" show at the Bata Shoe Museum, and new projects in Toronto's historic brewery district, highlight the incredible accomplishments of this team.